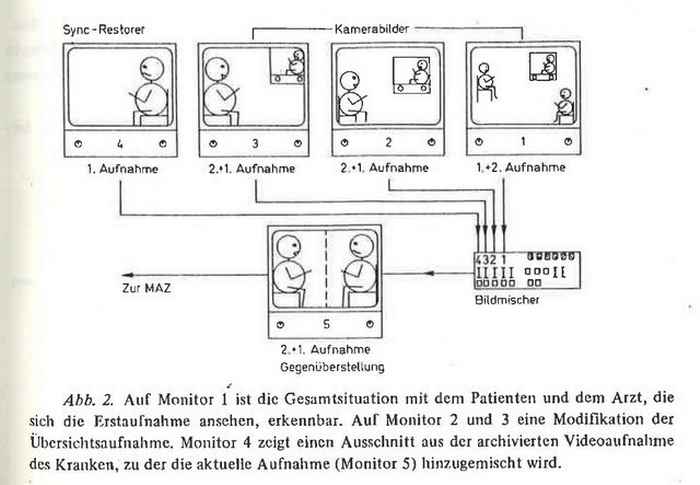 for a link please register here
Since the 1960s methods and practices based on TV and video technology have been developed in psychotherapy and psychiatry, which were directed at getting to know, documenting, observing, confronting, diagnosing, or empowering the self. Whereas self-confrontational methods had also used film and photography, video with its immediate playback function has been viewed as particularly appropriate to be used in this respect.
In my talk I will focus on the IAAPP (Internationaler Arbeitskreis für Audiovision in Psychiatrie und Psychotherapie / International Working Group for Audiovision in Psychiatry and Psychotherapy), which was founded in West Berlin in 1977. The primarily German-speaking working group was concerned with the exchange of know-how and research regarding audio-visual methods in documentation, diagnostics, teaching, research, and therapy. Although the name of the working group did not mention a specific medium, a major part of the actors dealt with the medium of video on magnetic tape.
I'm going to situate the activities of the IAAPP in the field of psychiatry and psychotherapy and within the historical framework of video's utilization for working on the self.
Renée Winter is a historian and postdoc at the Department of Contemporary History at the University of Vienna. PhD in history from the University of Vienna with a dissertation on history programs dealing with Austria's Nazi past on early Austrian television (1955-1970):https://doi.org/10.14361/transcript.9783839424414 Research interests include media history, gender constructions, (post-) history of national socialism and the holocaust, history of migration and post/colonialism to/and/in Austria.Current research project: Video as Technology of the Self: Self-confrontation, Self-empowerment and Auto/biographical practices (Funded by Austrian Science Fund FWF: V633): https://video-history.univie.ac.at
The Useful Television Standing Seminar (organized by Anne-Katrin Weber, University of Lausanne, and Markus Stauff, University of Amsterdam) aims to facilitate the exchange between scholars interested in television's application as a useful tool, rather than a mass medium. The examples range from military and industrial applications of television technology to its operational use in medicine, science, or sports. We partly build on older debates in film studies (e.g. non-theatrical cinema; useful film) and want to bring television into this debate. Looking at useful television requires to broaden and to complicate our understanding of what media do and how they do it; additionally, it contributes to an alternative genealogy of "digital media". The seminar organizes two or three meetings per semester for which we invite guest speakers, discuss the participants' work in process or new and old publications that seem of relevance.